Nov 16, 2021
6th EpiAFRIC Health Meets Tech Hackathon: Navigating Healthcare Post-COVID-19
The COVID-19 pandemic has changed the world. It has killed millions, wrecked businesses, destroyed livelihoods and stagnated economic growth. All these negative outcomes are thanks to a virus - the coronavirus.

Prior to 2020, few people believed that an infection which begins in one corner of the earth could reach other parts within hours and change the world the way most of us know it. There were lockdowns of cities and international borders between countries (air, land and sea). One result of the restriction of movements was that millions of people could not access healthcare.
We heard stories of health workers having inadequate personal protective equipment (PPE) to protect themselves while they worked to save lives. In the United Kingdom, health workers with the National Health Service wore plastic waste bags due to unavailability of PPEs. In Nigeria, lack of PPEs led to health workers becoming infected. There were stories of patients denied care at health facilities because health workers were scared of becoming infected.
Telemedicine became popular. Zoom became ubiquitous. Everyone operated virtually despite poor internet connectivity making the experience less exciting. Our mental health took a hit. Globally, cases of COVID-19-related suicides went up. It was time to rethink access to healthcare. It was time to consider lessons from COVID-19 to help us navigate healthcare after the pandemic ends.
I am in a position to explore this because I am a public physician and lead EpiAFRIC health meets tech initiative as CEO. Prior to 2020, we had implemented five hackathons across three countries in Africa - Kenya, Nigeria and South Africa. Our health meets tech agenda has a goal of building an ecosystem of health and tech practitioners, working together to build solutions designed to improve healthcare in Africa. By 2016, we realized that most investments in tech in Nigeria were skewed towards fintech. We needed to build this ecosystem to make health attractive to tech people. To put this in perspective, based on 2020 estimates, fintech accounts for 44% while health tech accounts for 10% investments in Nigeria's tech space.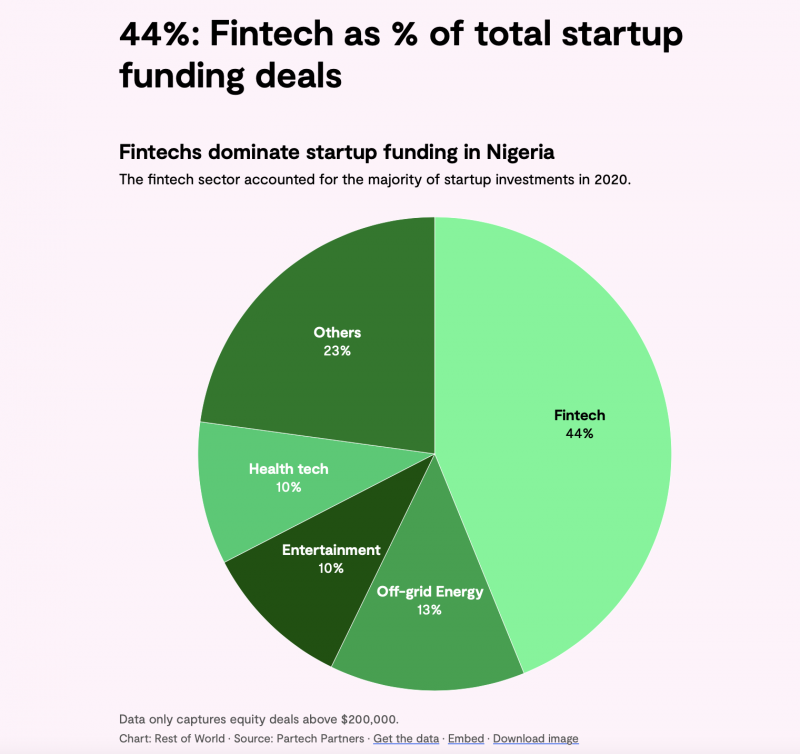 I know the lessons from the pandemic provide a segue to explore how to navigate healthcare post-COVID-19. That became the theme of our 2021 hackathon. We could not lose this opportunity of getting health and tech practitioners to build and dream together for the upcoming post-COVID-19 period.
A famous African proverb says, "if you want to go fast, go alone. If you want to go far, go together". We have always believed in the power of community, in delivering all past five hackathons. The 6th one would not be different. First, we needed partners to work with us. Hackathons do not come cheap. Most importantly, we have learned from past hackathons that partnerships bring tremendous value which transcends financial support.
The first partner that came to mind was PandemicTech. We partnered to deliver the 2018 infectious disease hackathon. As a venture philanthropy leading global health security innovation and world's first innovation ecosystem dedicated to fighting pandemics, the PandemicTech team understands the imperatives of health meeting tech to spur innovations. Andrew Nerlinger, co-founder, was very gracious and agreed to have PandemicTech join as a Titan partner. That was the boost we needed to reach out to other partners. Eventually, we had ten partners - PandemicTech, Marie Stopes International Organisation in Nigeria, Pathfinder International, TY Danjuma Foundation, Riders for Health, Save the Children Tanzania, WellaHealth, Doctoora, Ventures Park and Nigeria Health Watch.
EpiAFRIC health meets tech hackathon has a unique format - advertisement of call for ideas submission, shortlisting of teams, keynote speech, panel discussion, training on design thinking and pitching, mentoring, pitching and judging. Delivering the 2021 hackathon in the middle of a pandemic means we had to be innovative, move away from purely a physical event to a hybrid one (both physical and mental virtual).
The call for submissions went out on May 25 until July 31. A total of 118 entries were received from four continents — Africa, Asia, Europe and North America. This list went through two shortlisting processes. After the first one, we pruned it down to 34 teams. At the end of the second, we shortlisted 19 teams. Ten teams participated in the hackathon while 7 submitted pitch videos.
Speakers
The keynote speaker was Andrew Nerlinger of PandemicTech. Panel speakers included Moredreck Chibi (Regional Health Innovation Advisor, WHO AFRO), Cyan Brown (Senior Atlantic Fellow for Health Equity at Tekano, South Africa), Stellah Bosire (Co-CEO, UHAI East Africa), Tolu Adeleke-Aire (Founder, Tolu the Midwife Healthcare Solutions and the Maternity Hub), Elliot Koranteng Tannor (Nephrologist & Senior Lecturer, KNUST, Ghana), Carl Manlan (Senior New Voices Fellow at the Aspen Institute), Kingsley Odogwu (Director of Clinical Services, Marie Stopes International Organisation in Nigeria).
Our decision to host a hybrid hackathon was based on three reasons. First, only one out of the 19 teams shortlisted is based in Abuja. Second, our speakers were also international. Third, internet connectivity could not be trusted to remain stable all through the hackathon. Another change this year was reducing the duration of the hackathon from three to two days. As we have done in previous hackathons, we held a get-to-meet the teams webinar on the Wednesday before the hackathon. It is our practice to use this meeting for personal connections with the teams. It is also a great opportunity for teams to ask questions about the hackathon.
The first day of the hackathon was on September 10, and it focused on the teams. We trained them on design thinking and how to pitch. I delivered the session on design thinking, reminding everyone of the five stages (empathize, design, idea the, prototype and test). I emphasized that we design for users and must always bear that in mind. This is why the user design experience should guide every stage of design thinking. In addition, equity and accessibility are core components of the design process. My colleague, Chibuike Alagboso delivered the session on how to pitch. He made pitching very easy for everyone. He reminded us that we all pitch everyday - engaging with one's child to do house chores or convincing colleagues to undertake a project. He reiterated that because the pitches would be recorded videos, they have an opportunity to speak convincingly about the solutions they are building.
The second and final day of the hackathon was also the official opening ceremony. The day began with a minute of silence for the almost 3,000 people killed at the 9-11 attack that day in the U.S. 20 years earlier. As an Igbo, I say, "ozoemena" - May this not happen again. EpiAFRIC health meets tech initiative has a deep relationship with the U.S. The first funding we received to operationalise the initiative by organizing hackathons across the African continent was from Facebook. PandemicTech is another American firm, which first partnered with us to deliver the 2019 infectious diseases hackathon in Nigeria's capital city, Abuja. Furthermore, the keynote speaker at that hackathon was then U.S. Ambassador to Nigeria, Hon. W. Stuart Symington.
Being the hybrid hackathon, the second day of the event was held at the Ventures Park Abuja. There were participants on-site and online. I co-moderated the event with my colleague, Dara Akara-Damisa.
All our speakers agreed that we should draw lessons from the COVID-19 response in order to navigate healthcare post-COVID-19.
Dr. Andrew Nerlinger reiterated the power of community by individuals coming together to solve problems affecting humanity.
Physician and co-CEO of UHAI, Dr. Stellah Bosire spoke about community health workers and how they are strategic in improving health. "The first line of Defence should be community health workers", she said.
Senior Aspen New Voices Fellow, Carl Manlan emphasized the need for design thinking. "When we think about tech solutions and their design, I tend to think that the solution is not a technological one. It is a human-centered solution, which leverages technology to improve health outcomes," he said.
To Estelle Mbadiwe, data is key. She commended Nigeria Centre for Disease Control for using data to drive Nigeria's response to COVID-19.
Dr. Cyan Brown said that innovations are local first before they become global. She advised innovators to consider their local contexts and build with their local populations in mind. "We need local knowledge, and we need to have community centred approaches in thinking about healthcare delivery. Otherwise, our approach is simply seen as something that we're pushing on a community and not necessarily doing with the community.", she said.
As a nephrologist and kidney health advocate, Dr. Elliot Tannor has firsthand experience of how telemedicine has become an essential part of his patient consultation. Although COVID-19 initially limited how his patients accessed care at his clinic, it also became an opportunity for personalized remote care. Tolu Adeleke-Aire is a top midwife who prior to the pandemic was offering virtual antenatal classes for pregnant women/their partners and involving men in pregnancy/birth processes. She lamented that, "at the heat of COVID19 pandemic, women had limited access to maternal health services across the globe."
Dr. Kingsley Odogwu said, "telemedicine, which is basically a remote video conferencing mechanism, has come to play. It started off in the past, but it gained traction during the pandemic."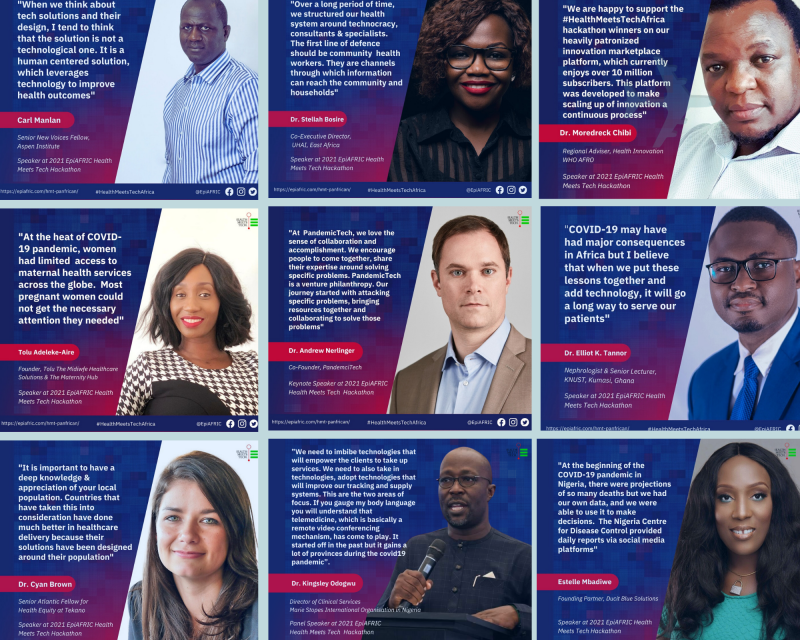 The hackathon was not all about tech. We had fun activities too. The highlight of the fun activities was a painting session that had participants across generations. They painted based on personal inspiration. We chose painting as a fun activity because one does not require expertise to undertake.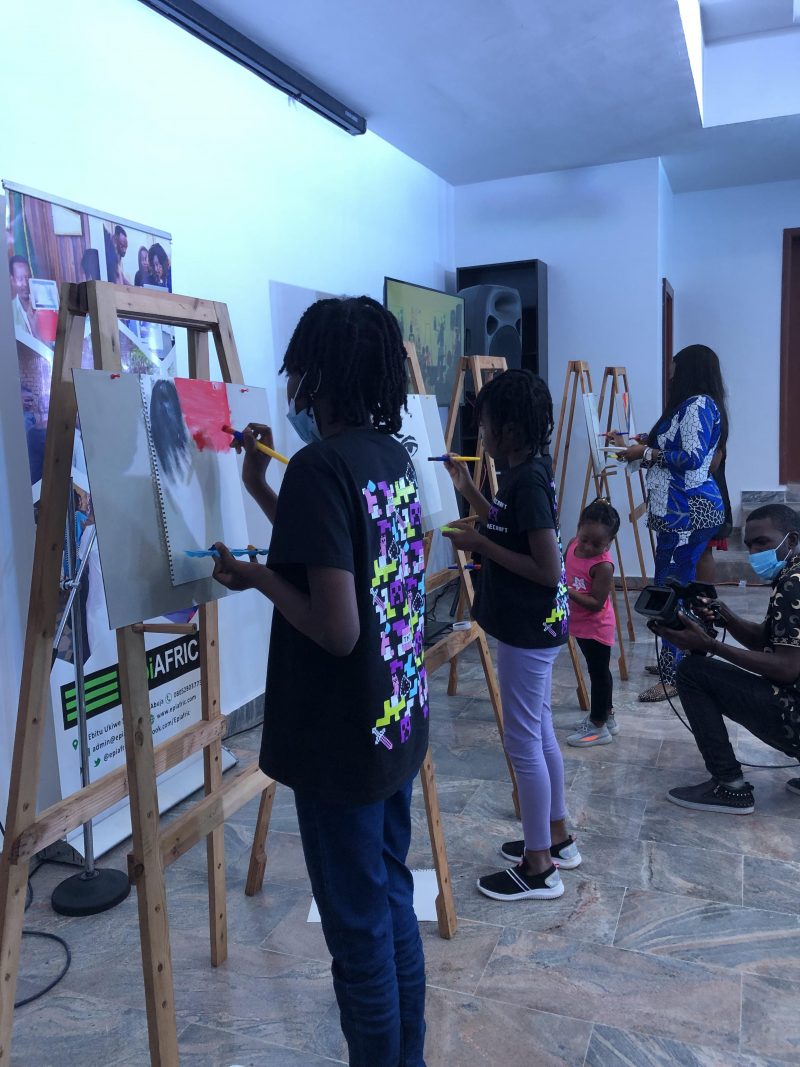 Mentors
We are grateful to mentors who guided the teams and provided invaluable advice. The mentors included Aloysius Chidiebere Ugwu, Dara Amaka-Damisa, Bester Mulauzi and Umeh Chukwunonso.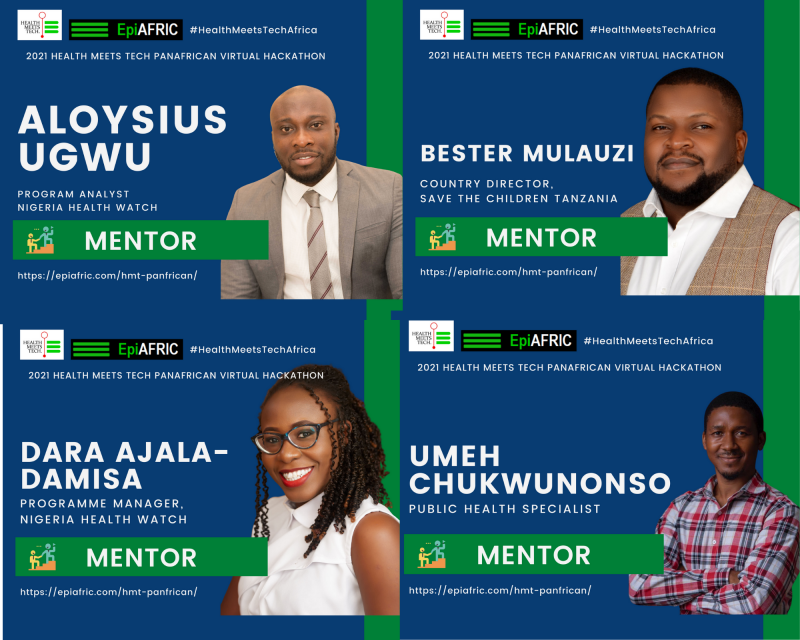 Judges
Selection of winners is a Herculean task. The hackathon judges (Sarah Gerwig, Asher Adeniyi, Beti Baiye and Chioma Nwakanma) made that possible.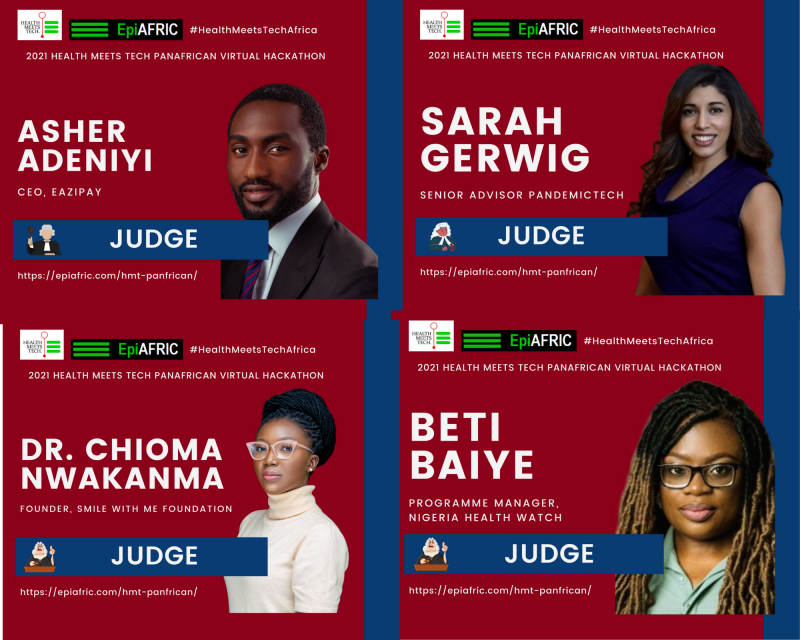 After a rigorous review process, two hackathon winners emerged - Team JDI Audacious and Team Med-Tech Africa. Their selection was based on scoring by judges. Each judge scored using the hackathon judges' sheet with the following criteria shown in the table below:
Technical innovation (idea): is the solution relevant to the identified problem?

Did they understand the problem, and did they involve, for example, stakeholders? Who will benefit from using your solution?

30

Creativity? How creative has the group been in solving the challenge? Did the team come up with a radical approach, or did they follow existing patterns and solutions?

10

Execution (demo) Has the team been successful in showing that their solution can work? The hack does not have to be perfect or production ready, but does the idea come to life with their demo?

10

Pitch - How well did the team communicate the solution?

10

Polish (design) How useable is the product? Have they considered how easy for different user types to use?

10

Business model –

will this solution be easy to market?

can it get multiple users within the shortest period?

Has the team considered profitability (paid users, volume of users)?

20

Impact of the solution: How will your solution save lives?

10

Total

100
We succeeded in bringing together a community to make this hackathon a success. That is the goal of EpiAFRIC health meets tech initiative - building a community of health and tech practitioners using technology to improve health across Africa.
About the Winners
Team JDI Audacious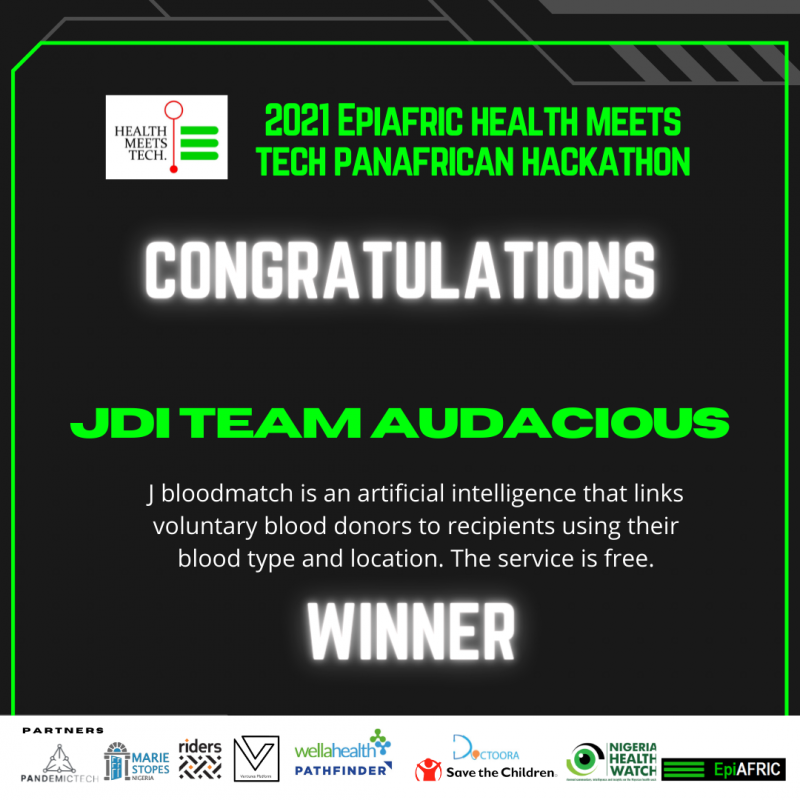 About JBloodMatch
JBloodMatch connects non-remunerated voluntary blood donors to matching recipients at the point of need. JBloodMatch provides a chatbot, JbloodMatchBot which is accessible on Telegram and Facebook messenger.
Team:
Angela Ochu-Baiye: CEO/Founder
Angela Umoru: Chief Operating Officer
Rita Akhabue: Programmes Assistant
Mayflora Ejedegba: Programmes Intern
Clement Oriaku: Team Lead, Blood Donation Arm of JDI (volunteer)
Contact Information:
Company – Jela's Development Initiatives
Website - https://www.jdi.org.ng/
Instagram- @jdinitiatives1
Facebook - @jdinitiatives
Location: Abuja, Nigeria.
Team Med-Tech Africa
About Forcardio
Forcardio is a single app that accurately presents real-time health data of people having cardiovascular illness from any existing Cardiovascular Disease monitoring devices they use to Cardiologists. CVD device manufacturers have custom built apps that work for only their devices. Forcardio App integrates all existing CVD monitoring devices and provides real-time remote monitoring and care with emergency warning system
Med-Tech Africa Team:
Nelson Igbiriki, CEO & Ex Medical Systems Engineer @ Stonymed.ng (X-rays, CTscan, MRI, Cardiology & Oncology device Engineer). He brings his 7 years Exp in Medtech field to handle management, operations, product development and Sales.
Benjamin Oni, CTO is a Full stack developer & Deep Tech Engineer, Ex @ stonymed.ng, Travelwahoo & BoundlessPay. He leads the app development team and builds the data analytics (AI) for patient health data.
Damilola Ayarinde, is an iOS Engineer, Ex @ Lead Software Engineer at Aorthar & Daba. He builds the ios version of the mobile app.
Femi Olabukoye, builds the API integration of the CVD monitoring devices to the app and handles backend and database structuring.
Contact Information:
Company - Medtech Africa
Website - https://medtech.africa
Twitter- @medtech_africa
Instagram- @medtech_africa
Location: Ilorin, Nigeria